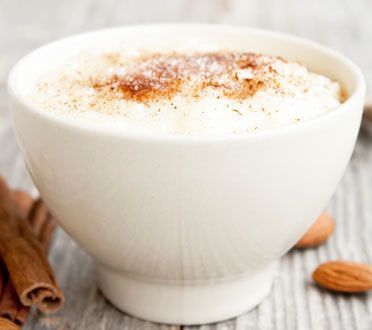 Ingredients:
4 cups Almond milk (or your favourite plant-based beverage), unsweetened
1/2 teaspoon vanilla extract
2 cinnamon sticks
1 cup parboiled rice, washed
1/4 cup golden Sultana raisins
1/4 cup shredded coconut, unsweetened
1/4 cup raw cane sugar
1 teaspoon lemon zest
4 cloves (optional)
Instructions:
In a large saucepan over medium heat, add almond milk and bring it to boil with the vanilla extract and cinnamon sticks.
Add rice, raisins, shredded coconut, raw cane sugar, cloves (optional) and lemon zest. Stir every 3 or 4 mins with a wooden spoon.
The rice pudding starts to thicken after 20-25 mins. You may add extra almond milk if it gets too thick and cook for 10 more minutes over medium-low heat.
Let it cool down for 5 mins. Serve hot. Sprinkle cinnamon powder and shredded coconut. You may also enjoy this rice pudding cold.
Extra tips:
✔ Parboiled rice, also known as converted rice, is a more palatable option than wild rice and still provides some nutritional benefits compared to white rice. Parboiled rice has a low glycemic index, which slowly and steadily releases glucose into the bloodstream. Low glycemic foods may help reducing inflammation and promote better blood glucose control.
✔ Parboiled rice is a good source of Vit B3 (niacin) and Vit B6, which are essential vitamins to convert food into energy. Don't we all need that when we're hitting by fatigue!
✔ Cooked and cooled rice is an excellent source of resistant starch, perfect for nourishing our gut bacteria and improving gut health.
*recipe courtesy of www.arthritisdietitian.com/