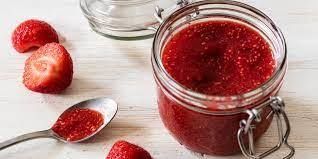 Ingredients:
½ Cup frozen berries or berries about to go bad (washed)
2 Tablespoons chia seeds
1 Teaspoon vanilla extract
½ Tablespoon pure maple syrup (optional)
½ Teaspoon cinnamon, powder
1-2 Teaspoon(s) Hemp Hearts (to sprinkle on toast)
Banana slices (optional)
Equipment:
Small saucepan
Potato masher (optional)
Instructions:
Heat a small saucepan over medium heat.
Pour berries into the pan and let them defrost, and release water.
Mash the berries with a fork or a potato masher.
Turn heat down to low to prevent the berries from burning.
Once the berries are mashed, add chia seeds and mix them into the berries.
Allow the chia seeds to thicken up with the berry liquid.
Add in maple syrup, vanilla and cinnamon.
Mix thoroughly & enjoy!
Extra tips:
✔ Frozen berries work just as well. Try different fruits, and you can be pleasantly surprised.
✔ Berries contain various active compounds, such as polyphenolic flavonoids, which emerging research shows their potential antioxidant and anti-inflammatory effect.
✔ Enjoy your Very Berry Jam on your favourite nut butter toast, pancakes, cheese and crackers, breakfast bowl, yogurt parfait.
*This recipe was featured in the CreakyKitchen, February 2021 edition.