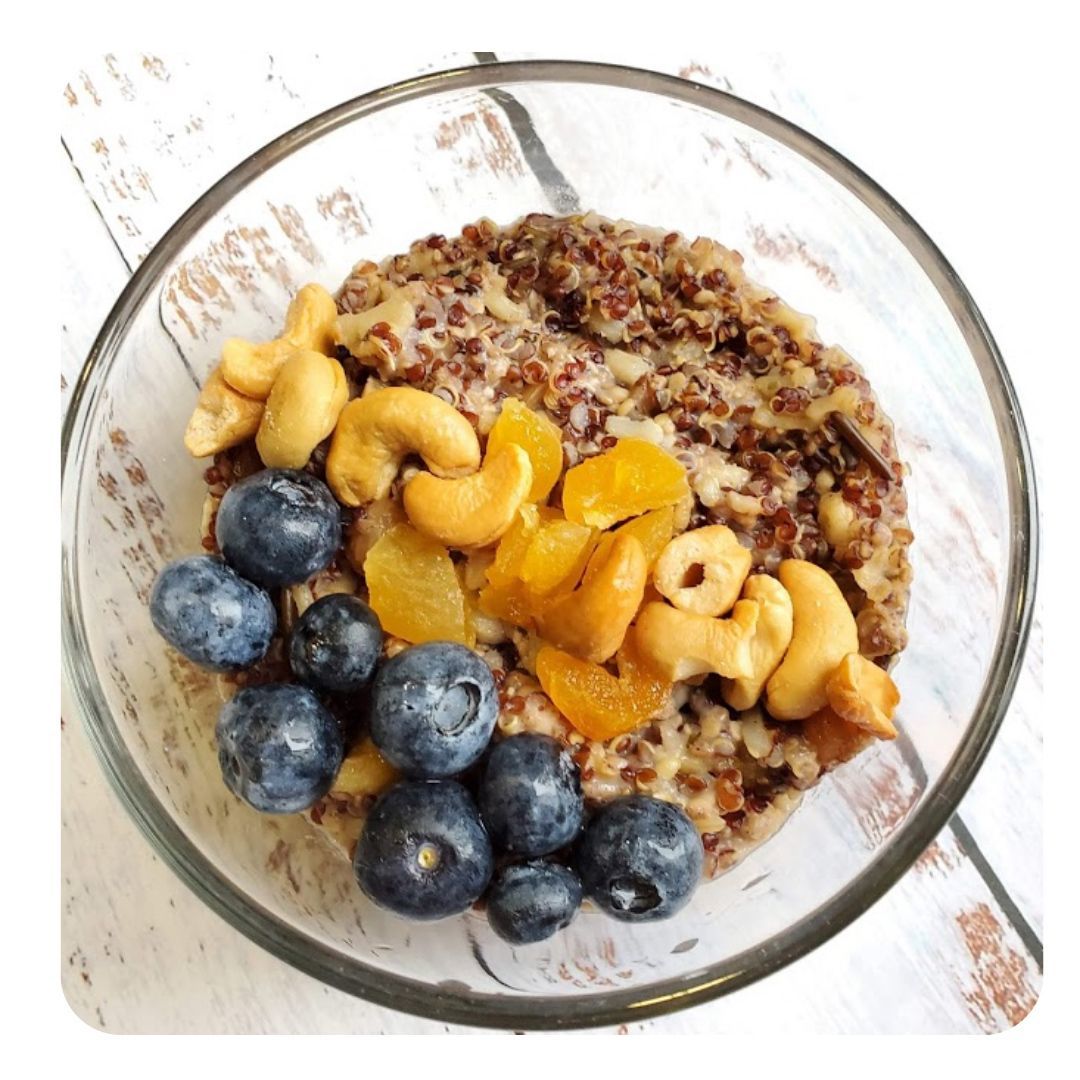 Ingredients:
1/2 cup red quinoa, rinsed
1/3 cup certified gluten-free rolled oats
1/3 cup wild rice, rinsed
2 Tablespoons Chia seeds
4 Tablespoons Hemp Hearts
1/4 cup raisins or dried cranberries
1/4 cup chopped dried apricots
1 Tablespoon cinnamon, powder
1/4 Teaspoon ginger, powder
1/4 Teaspoon salt
1/2 Tablespoon Extra Virgin Olive Oil
2 1/2 cups almond milk
1 1/2 cups water
2 Tablespoons maple syrup (optional)
Fruit of choice
Cashews (optional)
Instructions:
Sauté hemp hearts and chia seeds in olive oil in a medium pot over medium heat for about 2 minutes.
Add all the ingredients and mix well.
Cook for about 10 – 14 minutes, until the grains are softened and cooked.
Top with Fruit of choice and cashews (optional)
Extra tips:
✔ Use a fine-mesh strainer, rinse the quinoa until the water runs clear. Quinoa has a slightly bitter taste; rinsing it water can reduce the flavour.
✔ Double up and make a batch of this breakfast bowl. Divide it into mason jars or BPA free plastic containers for the week ahead. You will have a power breakfast every day. Add favourite toppings.
✔ Use a plant-based beverage of your choice (coconut, nuts, hemp). Make sure it is fortified with calcium and vitamin D.
✔ You may add a tablespoon of hemp hearts to each serving to boost the protein and fibre.
*recipe courtesy of www.arthritisdietitian.com