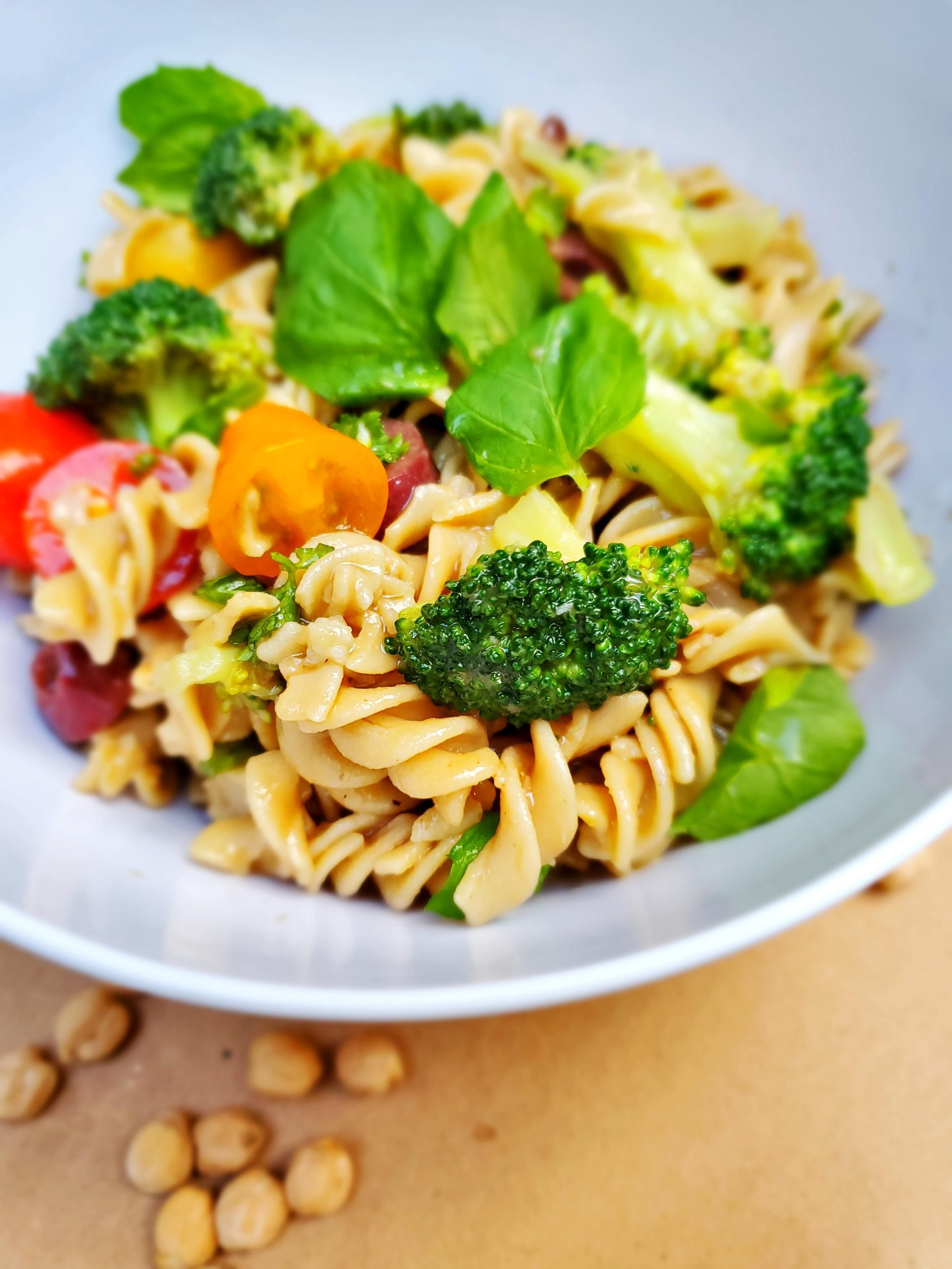 Ingredients:
8 oz (227 g) fusilli chickpea pasta
2 cups broccoli, cut into small florets
1 cup cauliflower, cut into small florets (optional)
¼ cup extra virgin olive oil or avocado oil
¼ cup balsamic vinegar
1 tsp garlic, paste or minced
1 tsp Italian seasoning
1 tbsp Dijon mustard
2 tbsp fresh lemon juice
1 tbsp maple syrup
1 tbsp Kalamata olive brine (optional)
Salt and black pepper to taste
1 cup cherry tomatoes, halved
½ cup pitted Kalamata olives, chopped
½ cup fresh basil, chopped
¼ cup fresh Italian parsley, chopped
Equipment:
Saucepan
Small Mixing bowl
Large salad bowl
Serving bowls
Instructions:
Bring one large pot of water to a boil. Cook pasta according to package instructions, adding broccoli and cauliflower 1 minute before the end of cooking. Drain and rinse promptly with cold water.
In a large bowl, while the pasta is cooking, whisk together the oil, vinegar, olive brine, lemon juice, mustard, maple syrup, garlic, Italian seasoning, salt and pepper. Add drained pasta, broccoli and cauliflower, combine all ingredients and coat with vinaigrette.
Mix in tomatoes and olives and season with more salt (if desired). Add basil and parsley. Serve immediately. 
Extra tips:
✔ Refrigerate any leftovers in a covered container for up to 1 day.
✔ For extra protein, add canned chickpeas or beans. Be sure to rinse under cool water to remove excess sodium before preparing.
✔ Avoid overcooking the pasta. Plant-based pasta cooks in less time than their whole-wheat counterparts.
✔ You can use other types of bean-based pasta or whole-wheat pasta. This salad makes an excellent side for a summer potluck, but it works as a main course too.
*recipe courtesy of www.arthritisdietitian.com