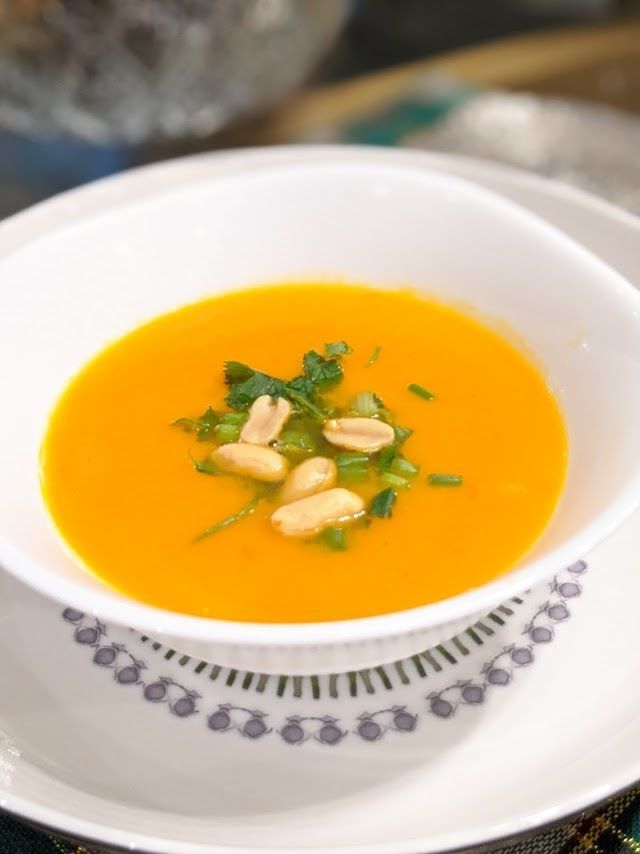 Ingredients:
1 Tablespoon extra-virgin olive oil
1 medium onion, chopped
2 1/2 lb Butternut Squash *
1/4 lb baby potatoes, white, peeled
1 tablespoon garlic paste or minced
1/4 cup Thai red curry paste
2 1/2 cup low-sodium vegetable broth or stock
1 can coconut milk (400 ml), organic if possible
2 Tablespoons peanuts, unsalted
1 stalk green onions, chopped
2 Tablespoons fresh coriander (cilantro), chopped
1 Tablespoon lime juice
* Bake the Butternut Squash in the oven at 350 F degrees for 40 minutes to facilitate peeling and chopping
Instructions:
Heat oil in a saucepan at medium-high heat. Cook onion, for 5 minutes or until softened. Stir occasionally.
Add baked squash and the potato to the pan and cook for about 5 minutes, stirring occasionally.
Add the garlic, stirring for 1 minute or until fragrant.
Add the curry paste until the vegetables are coated all over. Add the stock, cover, and bring to boil.
Reduce heat to low and simmer for about 15 minutes.
Remove the lid and allow the mixture to simmer for 20 more minutes.
Remove from heat. Stand for 5 minutes.
Blend the soup until smooth using a hand blender, then return to medium heat and stir in the coconut milk. Add black pepper to taste. Cook for 5 minutes or until heated through.
While soup cooks, combine peanuts, coriander, green onions, and lime juice in a small bowl. Ladle soup into bowls and garnish with peanut mixture.
Enjoy!
Extra Tips:
✔ Double up and store extra soup in individual mason jars or air-tight containers for a grab-and-go lunch option.
✔ Add 1/4 cup of red lentils (washed) at step 5 for added thickness, protein and fibre!
*recipe courtesy of Cristina Montoya, www.arthritisdietitian.com