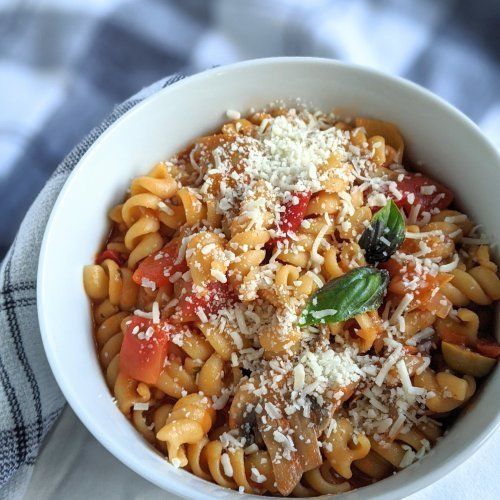 Ingredients: 
2 tablespoons olive oil
6 cloves garlic minced
1 sweet onion diced
8 ounces mushrooms sliced
1/2 cup kalamata olives chopped
1 cup artichoke hearts
1/2 cup roasted red peppers chopped
1 6 ounce No-Salt-Added Tomato Paste
1 14 ounce can No-Salt-Added Diced Tomatoes with juice
1 16 ounce box gluten free pasta 
8 cups water or low sodium vegetable broth
1 teaspoon oregano
2 tablespoons fresh basil julienned
Salt & Pepper to Taste
Optional Vegan cheese to top 
Instructions:
In a large pot, heat the olive oil over low heat.  Add the garlic and onions and sauté on low heat for 5-6 minutes until vegetables begin to soften.
Add the rest of the ingredients to the pot and stir well to combine.  Bring to a boil, then reduce to a simmer.  Cook over low heat for about 20 minutes, stirring frequently.
Serve topped with vegan cheese if desired. Enjoy!