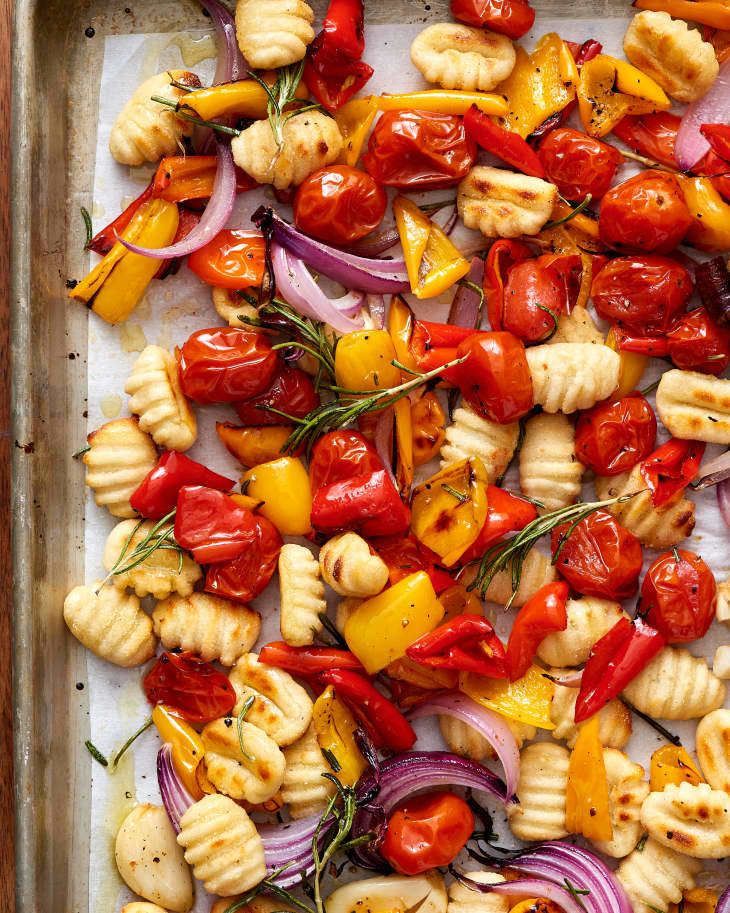 Ingredients:
1 pound fresh, shelf-stable, or frozen potato gnocchi
2 medium bell peppers, cut into 1-inch chunks
1 pint grape or cherry tomatoes
1 small red onion, cut into 1-inch chunks
4 cloves garlic, smashed
1 teaspoon coarsely chopped fresh rosemary leaves
1/4 teaspoon kosher salt
Freshly ground black pepper
2 tablespoons olive oil
2 tablespoons coarsely chopped fresh basil leaves
Grated Pecorino Romano or Parmesan Cheese, for serving
Instructions:
Arrange a rack in the middle of the oven and heat to 450°F. Line a rimmed baking sheet with parchment paper.
Place the gnocchi, peppers, tomatoes, onion, garlic, rosemary, salt, and a few generous grinds of black pepper in a large bowl.
Drizzle with the oil and gently toss to combine. Spread the gnocchi mixture out evenly on the prepared baking sheet.
Roast, stirring halfway through, until the gnocchi are plump and the vegetables are tender and caramelized, 18 to 20 minutes total.
To serve, spoon the gnocchi and vegetable mixture into individual bowls and garnish each bowl with the basil and grated cheese.
Recipe Notes:
Storage: Leftovers can be stored in an airtight container in the refrigerator for up to 5 days.