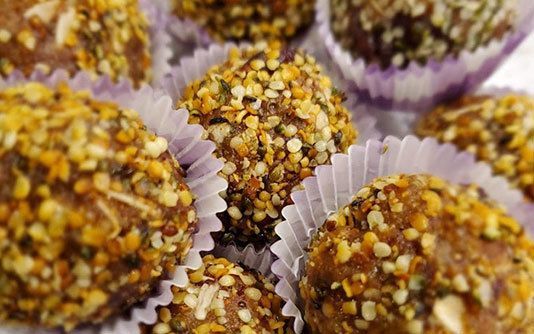 Ingredients:
¾ cup shelled walnuts 
½ cup hemp hearts, divided 
4 tbsp maple syrup
½ cup almond butter 
⅓ cup dried cranberries 
1 tbsp vanilla extract 
⅓ cup rolled oats
Equipment:
Medium Mixing bowl
Food processor
Your hands
Instructions:
Place the walnuts and half of the hemp hearts in a food processor and process until fine. Add the maple syrup, almond butter, cranberries, vanilla and oats. Continue to process until all the ingredients are combined.
Roll the balls onto the remaining hemp hearts and press lightly until completely covered.  
Store in an airtight container in the fridge for up to 2 weeks or keep in the freezer for up to 3 months. 
Extra tips:
You can also coat these energy bites in unsweetened shredded coconut or vegan chocolate chips.  
Try toasting the hemp hearts on the stove to elevate their nutty flavour. Place a skillet over medium heat and spread hemp hearts evenly in the pan. Allow hemp hearts to brown for 2-3 minutes, stirring occasionally.   
Try other dried fruits or nuts for variety.
Use certified gluten-free oats
*recipe courtesy of www.arthritisdietitian.com