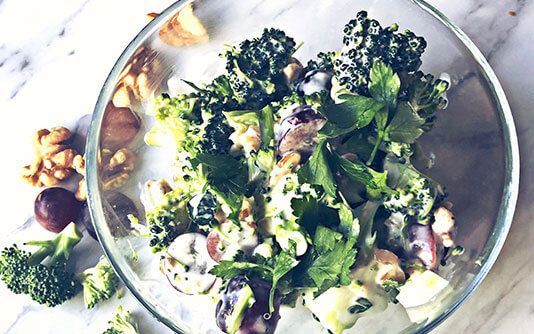 Ingredients: 
½ cup 1% plain Greek yogurt  
½ cup vegan mayonnaise 
3 tbsp apple cider vinegar 
2 tbsp maple syrup 
Salt and pepper to taste  
4 cups fresh broccoli florets, cut into small pieces 
1 cup red, seedless grapes, cut in halves  
1 cup walnuts, coarsely chopped  
½ cup red onion, diced  
½ cup fresh parsley, chopped  
Instructions: 
In a large bowl, whisk together the Greek yogurt, vegan mayonnaise, apple cider vinegar, maple syrup and salt and pepper until blended and smooth.    
Stir in the rest of the ingredients and mix well until broccoli florets and grapes are coated.  
Extra tips: 
Serve as a side dish or as a stand-alone light meal. 
To make this a completely plant-based dish, eliminate the Greek yogurt. 
If grapes are not available, use ½ cup of raisins.  
If vegan mayonnaise is not available, use low fat mayonnaise. 
Broccoli, along with cabbage, cauliflower, brussels sprouts and asparagus, are known to cause excess gas. These vegetables contain raffinose, a complex sugar, that can be difficult for some people to digest.  Consume these foods in small amounts or talk with your registered dietitian before eliminating these foods from your diet.
*recipe courtesy of the Arthritis Society, https://arthritis.ca/living-well/2021/tangy-broccoli,-grape-walnut-salad