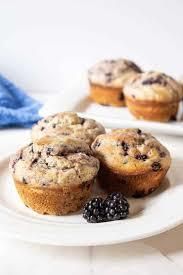 Dry ingredients:
3 cups quinoa flour
¼ cup ground flaxseed
1 tbsp baking powder
¼ tsp salt
1 tsp cinnamon
½ tsp allspice
¼ tsp nutmeg

Wet ingredients:
2/3 cup grapeseed oil
1 cup maple syrup
1-1/4 cup almond milk
1 tsp vanilla
Garnish:
1 pint blackberries
¼ cup coconut flakes

Directions:
Preheat oven to 375°F and line 12 muffin tins with cups.
In a large mixing bowl whisk together dry ingredients. Set aside.
In a small mixing bowl whisk together wet ingredients.
Add wet ingredients to dry ingredients and mix together until completely lump free.
Fold in ½ of the berries. Using a ¼ cup measure scoop out mixture and place into muffin tin. Garnish with remaining berries and sprinkle with coconut.
Bake in the oven for 20-25 minutes, until a toothpick comes out clean after insertion.
Serve with whipped coconut cream and fresh berries.
*recipe courtesy of Amy Symington, www.ameliaeats.com