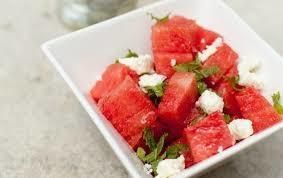 Ingredients:
3 cups chopped watermelon cut into 1-inch cubes
1/2 cup chopped fresh mint
3 tablespoons lime juice (or more, if you like your salad really tart)
1/4 teaspoon salt (optional)
3/4 cup brined feta cheese cut into 1/2-inch cubes
Instructions:
In a large bowl toss together watermelon, mint, lime juice, and salt. Add feta cheese, crumbling gently with your fingers. Toss the salad with your hands. Taste and add more salt, if you like. Serve chilled or at room temperature.