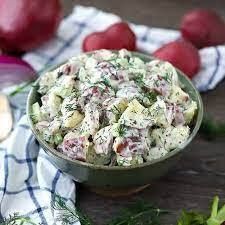 Ingredients:
Salad
12 small red potatoes, skin on
¼ teaspoon salt
1/3 cup red onion, finely chopped
1/3 cup red or green bell pepper, chopped
1 stalk celery, chopped
3 tablespoons fresh dill, chopped
Dressing
½ cup olive oil-based mayonnaise
2 tablespoons Dijon mustard
Salt and pepper to taste
Instructions:
Wash potatoes with a brush under warm running water.  
Chop potatoes into bite-sized pieces, leaving the skin on.
Place potatoes in a microwave-safe bowl with ¼ cup of water and a pinch of salt. Microwave for 4 to 5 minutes or until a fork can easily be inserted into the potatoes. Drain well.
In a large bowl, combine onion, peppers, celery, dill, and potatoes.
In a medium bowl, whisk together all the dressing ingredients.
Gently combine the dressing with the potato mixture.
Garnish with additional chopped dill, if desired.
Extra tips:
Microwaves are a safe and convenient cooking appliance. You can also cook potatoes on the stovetop: place potatoes in a pot of cold water, bring the water to a boil, then simmer for about 10 minutes or until potatoes are tender when poked with a fork. Drain well and proceed with the recipe.
Use a food processor to chop the vegetables or use a large-handled knife to make chopping easier.
Serve the potato salad warm or chilled.
*recipe courtesy of the Arthritis Society, https://arthritis.ca/living-well/2020/recipe-video-red-potato-dill-salad