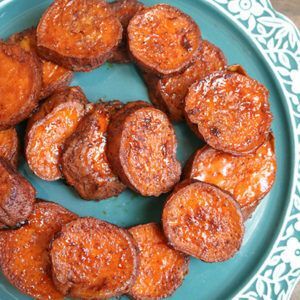 Ingredients:
2 tbsp extra virgin olive oil
2 tbsp maple syrup
1 tbsp smoked paprika
1/2 tsp sea salt
1 tsp black pepper
2-3 sweet potatoes, cut into thick (about 1/2") slices
Instructions:
Preheat oven to 400 degrees F.
 
In a large bowl, mix olive oil, maple syrup, smoked paprika, salt and pepper.
 
Add sliced potatoes to bowl and mix well with hands until both sides of every slice is doused well with maple glaze.
 
Place one layer of sweet potato slices on a cookie sheet. Bake in the oven for 45 minutes to an hour, flipping them once at around 30 minutes. You want to cook them until they are soft inside and roasted and glazed on the outside. Remove from oven and serve.