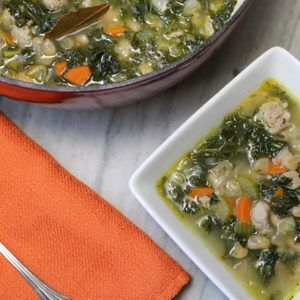 Ingredients:
1/4 cup extra virgin olive oil
1/2 pound Italian sausage, cut into bite sized pieces
1 onion, chopped
1 carrot, chopped
1 stalk celery, chopped
2 cloves garlic, chopped
1/2 pound kale, stems removed and chopped
6 cups chicken broth
1-28 ounces can cannelloni beans, rinsed and drained
1 tsp rosemary, dried
1 bay leaf
1/4 tsp pepper
Salt, to taste
1/2 cup shredded parmesan
Instructions:
In a large Dutch oven or thick bottomed soup pot, cook sausage in ¼ cup olive oil on medium heat until browned on all sides.

Add onion, carrot, celery and garlic. Continue to sauté for another 3 minutes.

Add kale. Sauté until kale begins to wilt.

Add chicken broth, beans, rosemary and bay leaf.

Bring to a boil, then bring to a simmer, cover and cook on a low boil (simmer) for 20 minutes, stirring occasionally. Add salt and pepper, to taste.

Top each bowl of hot soup with parmesan cheese.

*recipe courtesy of www.mediterraneanliving.com