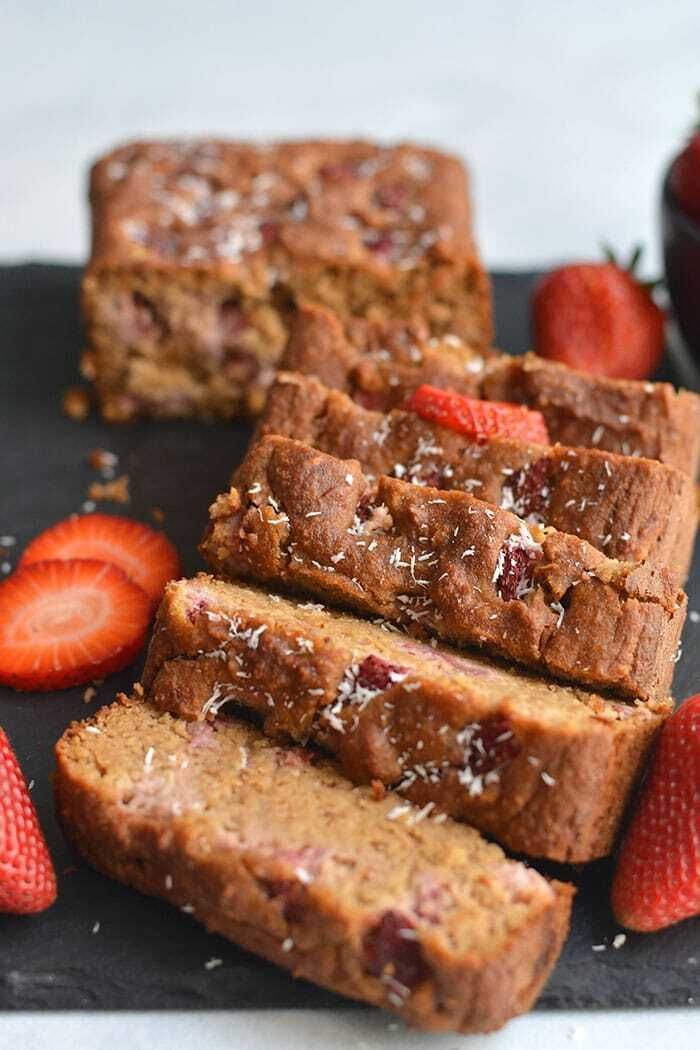 Ingredients:
1 cup all purpose flour (or a gluten free flour blend)
¼ cup coconut flour
½ cup granulated sugar
¼ cup icing sugar
1½ teaspoon baking powder (or gluten free baking powder)
½ teaspoon baking soda
½ teaspoon salt
½ cup coconut yogurt
¼ cup butter (or any dairy free spread)
½ teaspoon pure vanilla extract
2 large eggs
½ cup strawberry, puree (may use fresh or frozen)
1 cup apples, pureed
Instructions:
Preheat oven to 350 F. Grease a bread loaf pan using a vegetable oil spray or PAM baking spray.
Remove the stems of the strawberries and cut them in half. You may also use frozen strawberries, especially in the winter time. Puree the strawberries in a food processor.
Peel the apples using a vegetable peeler with a larger grip for your comfort. Cut the apple into quarters, cut out the core and puree them in food processor.
In a large bowl, cream butter (or dairy free spread) and sugar together. Add the vanilla extract and mix until thoroughly combined. Add one egg at a time to the mixture until combined.
In a medium bowl add the flour, baking powder, baking soda, & salt.
Add the dry ingredients to the butter mixture. Mix until fully combined
Add the strawberry puree, apple puree and coconut yogurt to the cake batter. Mix until fully combined.
Pour mixture into greased pan. Bake for 35-40 minutes. Check your bread because all ovens are different. Use a toothpick to check if the centre is done.
Cool completely before serving.
Extra tips:
Store in air-tight container, refrigerate and eat bread within a week.
Store in air-tight container and freeze up to 2-3 months.
Toast a slice of bread in a toaster oven and add butter or a vegetable spread. Enjoy it with your favourite cup of tea.
*article courtesy of www.arthritisdietitian.com