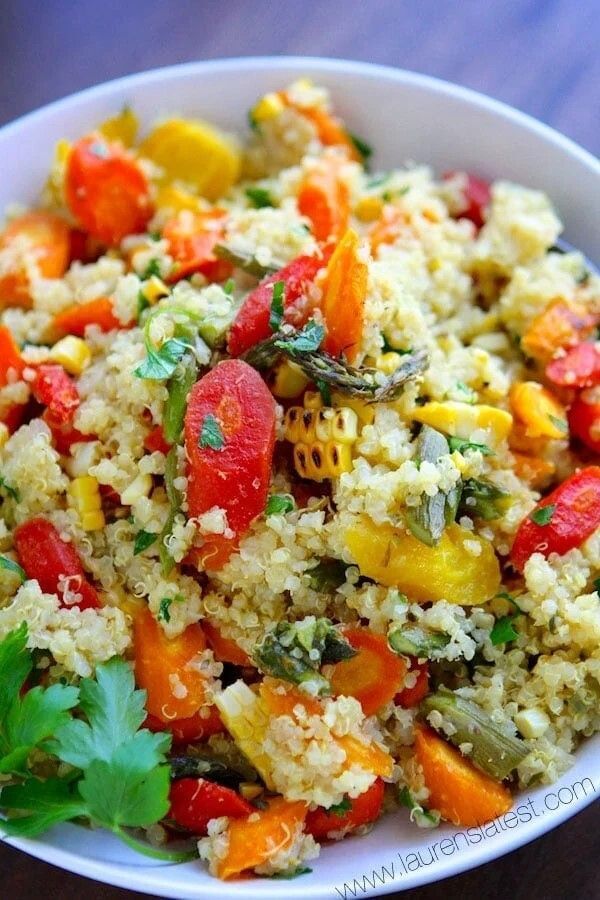 Ingredients (for the quinoa):
1 cup quinoa
2 cups chicken stock or vegetable broth or water
1/4 cup finely diced onion
salt & pepper
1 bay leaf (optional)
Ingredients (for the veggies):
3 tablespoons olive oil
1 lb colorful carrots
1 lb asparagus
salt & pepper to taste
2 ears grilled corn kernels removed
1/2 cup chopped parsley
juice of 1 lemon optional
Instructions
For the quinoa:
Place all ingredients into a small pot, cover, bring to boil and reduce to simmer until thoroughly cooked. Remove from heat, fluff with fork and set aside.
For the veggies:
Preheat oven to 400 degrees. Peel carrots and slice into 1/2 inch pieces; place on baking sheet. Wash asparagus and snap woody ends off. Cut into 2 inch pieces and place on baking sheet. Drizzle with olive oil, sprinkle with salt and pepper and toss to coat evenly. Bake 20-25 minutes, tossing once half way through to roast evenly. You want them pretty much fork tender. Remove from oven.
Place quinoa, roasted veggies, corn, parsley and lemon juice into a large bowl Toss together and serve.

*Option: Roast your favourite veggies using the above instructions and add to quinoa salad