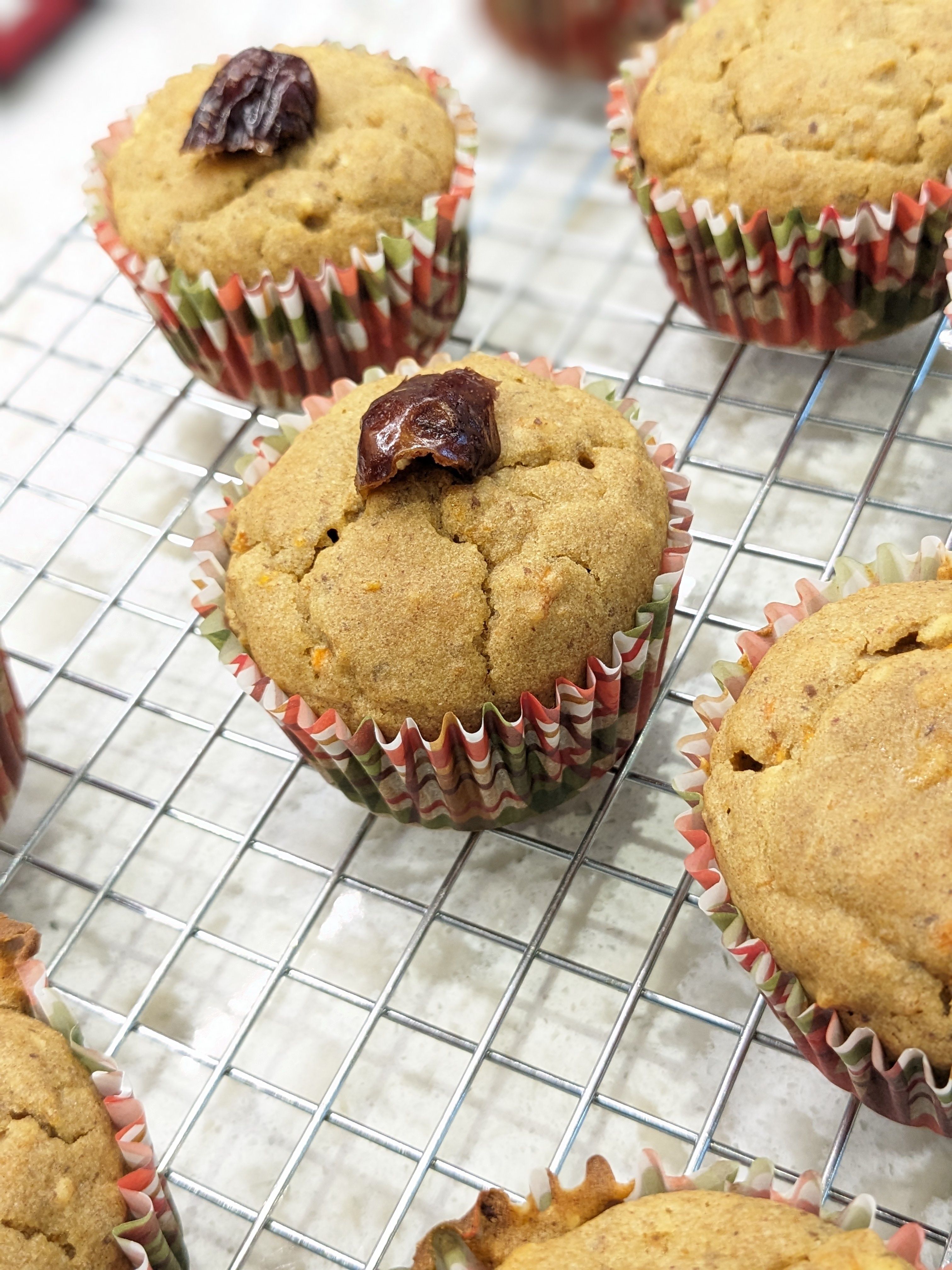 Ingredients:
1 cup Soy milk, unsweetened
¼ cup plain yogurt
¼ cup avocado or coconut oil (liquid)
1 egg
1 teaspoon vanilla
¼ cup cane sugar or packed brown sugar (optional)
½ cup dried dates, chopped
4 tablespoons flaxseeds, ground
½ cup applesauce, unsweetened
1 cup carrots, shredded
1 ½ cups gluten-free flour
2 teaspoons cinnamon
1 teaspoon baking powder
1 teaspoon baking soda
½ teaspoon salt

Instructions:
Preheat the oven to 350 F and line a 12-muffin tray with paper or silicone liners.
Combine together milk, oil, egg, yogurt, vanilla, and sugar (optional) using an electric mixer.
Add in the chopped dates, grated carrots, and applesauce. Mix again.
Mix the flour, baking powder, baking soda, and salt in a separate bowl.
Add them to the wet mixture and mix until just combined.
Scoop out the batter, filling muffin liners 3/4 full. You may top muffins with dried dates.
Bake for 25-30 minutes, checking that a toothpick comes out clean.
Let cool on a rack for 20 minutes.

Extra tips:

✔ Make this recipe completely vegan by skipping the egg and yogurt. To replace the egg, mix 1 tablespoon of ground flaxseeds with 3 tablespoons of water in a small bowl and let it sit for 5 minutes. Use ¼ teaspoon of apple cider vinegar instead of yogurt.
✔ Store muffins in an airtight container on your kitchen countertop for 3-4 days if they don't contain dairy or egg. Otherwise, refrigerate them. To freeze them, put them in a single layer in a freezer bag and keep them for up to 3 months.
✔ Use mini-muffin trays to make 24 mini-muffins and reduce baking time to 20 minutes for portion control.
✔ Use store-bought golden flax meal, pre-shredded carrots, chopped dates and pre- packed unsweetened applesauce for convenience and comfort.
✔ Replace the gluten-free flour with whole wheat flour or spelt flour if you don't follow a gluten-free diet.
✔ Add ¼ cup shredded unsweetened coconut for extra sweetness if you prefer not to use cane sugar in the recipe.
✔ Substitute soy milk with milk or plant-based alternatives according to your preference.
*recipe courtesy of Cristina Montoya, Registered Dietitian