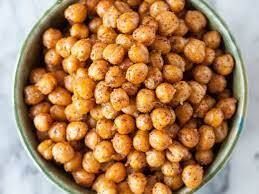 Ingredients:
1 19 oz (60 ml) can chickpeas, rinsed and drained well
1/4 cup (60 ml) avocado oil or olive oil
1 tsp (5 ml) cumin
1 tsp (5 ml) paprika
1 tsp (5ml) garlic powder
1 tsp (5 ml) coarse salt, or to taste
1/2 tsp (2 ml) freshly ground black pepper
Instructions:
Preheat oven to 400°F.
In a medium bowl, combine the chickpeas, oil, cumin, paprika, garlic, salt and pepper. Spread out in a single layer on a rimmed baking sheet and roast for 20-30 minutes, stirring once or twice until golden.
Season with extra salt as needed and serve immediately. Makes about 2 cups.